2nd International Conference on
Drug Discovery and Therapy
February 1st - 4th, 2010, Dubai, UAE
This unique international conference provides a platform for all pharmaceutical scientists, internists and primary care physicians to discuss and learn about all the important international breakthrough developments on drug discovery and on new therapeutics.
A conference organized by Eureka Science with support of the Higher Colleges of Technology, UAE, it focuses on the interdisciplinary fields of drug discovery, drug therapy and translational medicine.
After the overwhelming success of the first conference held in Dubai in February 2008 (where 11 Nobel laureates attended), the second conference will promise to be a much larger event with over 450 talks delivered and 23 thematic sessions with poster presentations and an associated commercial exhibition.
Throughout the course of the four day conference, you will have the opportunity to both network and hear leaders from the international pharmaceutical, academic and clinical communities.




Anti-infectives
Biologics
Cardiovascular
Central Nervous System
Diabetes & Obesity
Developments in other Therapeutic Areas
Drug Delivery
Drug Discovery & Therapy in the Middle East: Challenges and Opportunities
Enabling Technologies
Endothelial Dysfunction in Cardiovascular Disease
Generic Pharmaceuticals: Challenges and Opportunities
Global Discovery Outsourcing
Global Roundup of Pharmaceutical Research Capabilities and Opportunities
Inflammation and Immunology
Nanotechnology in Biomedical Research
Oncology
Pharmaceutical Biotechnology
Proteomics & Bioinformatics
Pulmonary Disorders
Regulatory Affairs
Successful Drug Discovery from the Research Lab to the Marketplace
Translational Biomedical Research
Women's Health Issues

Exchange ideas and network with leading pharmaceutical scientists, clinicians and internists.
Brings together top international scientists and clinicians presenting the cutting-edge discoveries, research and new therapeutic drugs.
First ever international conference to span the interdisciplinary fields of pre-clinical and clinical drug discovery and drug therapy.
First ever international conference to highlight the burgeoning field of Translational Medicine - and the major advances from "bench to bedside" research and practice.
Exhibitors can gain direct access to a core audience of professionals and decision makers and have increased visibility through branding and networking at the conference.
Obtain a global roundup of Pharmaceutical research capabilities and opportunities.
The conference will feature a commercial exhibition and poster sessions.
Obtain CME accreditation for select attended clinical lectures.

The conference will attract a targeted group of senior international decision makers. Delegates and exhibitors will have a valuable, informative and positive experience.
CEOs, CROs, senior directors and research associates from the pharmaceutical industry
Pharmaceutical scientists
Clinicians
Internists
Medical students (Delegate / Poster Presenter)



Welcome Notes
"The 2nd International Conference on Drug Discovery and Therapy aims to provide exciting information on cutting edge research in the area of drug development and applications in medicine. It will once again attract to Dubai a number of Nobel Laureates and leading scientists to discuss the latest developments in their respective fields. I am greatly looking forward to participating in what promises to be a very exciting scientific event and wish the conference all success."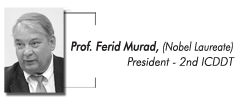 ---
"The conference will host leading scientists from academia and industry worldwide, to discuss the latest developments in drug discovery and drug therapy.
The conference aims to provide many interesting perspectives on how the science and technology of drug discovery is changing and will continue to change in the modern era."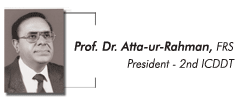 Participating Eminent Scientist &
Nobel Laureates

Allen B. Reitz
USA

Christian DOMINGO RIBAS
Spain

Ferid Murad
USA
Nobel Prize - 1998

Robert Huber
Germany
Nobel Prize - 1988

Gold Sponsor: