About Bangkok
Bangkok is the capital and most populous city of the Kingdom of Thailand. It is known in Thai as Krung Thep Maha Nakhon or simply Krung Thep. The city occupies 1,568.7 square kilometres (605.7 sq mi) in the Chao Phraya River delta in Central Thailand, and has a population of over 8 million, or 12.6 percent of the country's population. Over 14 million people (22.2 percent) live within the surrounding Bangkok Metropolitan Region, making Bangkok an extreme primate city, significantly dwarfing Thailand's other urban centres in terms of importance.
TOURISM IN BANGKOK
Bangkok is one of the world's top tourist destination cities. MasterCard ranked Bangkok as the top destination city by international visitor arrivals in its Global Destination Cities Index 2016, ahead of London with more than 21 million overnight visitors. Euromonitor International ranked Bangkok fourth in its Top City Destinations Ranking for 2016. Bangkok was also named "World's Best City" by Travel + Leisure magazine's survey of its readers for four consecutive years, from 2010 to 2013. As the main gateway through which visitors arrive in Thailand, Bangkok is visited by the majority of international tourists to the country. Domestic tourism is also prominent. The Department of Tourism recorded 26,861,095 Thai and 11,361,808 foreign visitors to Bangkok in 2010. Lodgings were made by 15,031,244 guests, who occupied 49.9 percent of the city's 86,687 hotel rooms. Bangkok also topped the list as the world's most popular tourist destinations in 2017 rankings.
Bangkok's multi-faceted sights, attractions and city life appeal to diverse groups of tourists. Royal palaces and temples as well as several museums constitute its major historical and cultural tourist attractions. Shopping and dining experiences offer a wide range of choices and prices. The city is also famous for its dynamic nightlife.
Among Bangkok's well-known sights are the Grand Palace and major Buddhist temples, including Wat Phra Kaew, Wat Pho, and Wat Arun. The Giant Swing and Erawan Shrine demonstrate Hinduism's deep-rooted influence in Thai culture. Vimanmek Mansion in Dusit Palace is famous as the world's largest teak building, while the Jim Thompson House provides an example of traditional Thai architecture. Other major museums include the Bangkok National Museum and the Royal Barge National Museum. Cruises and boat trips on the Chao Phraya and Thonburi's canals offer views of some of the city's traditional architecture and ways of life on the waterfront.
Shopping venues, many of which are popular with both tourists and locals, range from the shopping centres and department stores concentrated in Siam and Ratchaprasong to the sprawling Chatuchak Weekend Market. Taling Chan Floating Market is among the few such markets in Bangkok. Yaowarat is known for its shops as well as street-side food stalls and restaurants, which are also found throughout the city. Khao San Road has long been famous as a backpackers' destination, with its budget accommodation, shops and bars attracting visitors from all over the world.
ABOUT CULTURE
The culture of Bangkok reflects its position as Thailand's centre of wealth and modernisation. The city has long been the portal of entry of Western concepts and material goods, which have been adopted and blended with Thai values to various degrees by its residents. This is most evident in the lifestyles of the expanding middle class. Conspicuous consumption serves as a display of economic and social status, and shopping centres are popular weekend hangouts. Ownership of electronics and consumer products such as mobile phones is ubiquitous. This has been accompanied by a degree of secularism, as religion's role in everyday life has rather diminished. Although such trends have spread to other urban centres, and, to a degree, the countryside, Bangkok remains at the forefront of social change.
A distinct feature of Bangkok is the ubiquity of street vendors selling goods ranging from food items to clothing and accessories. It has been estimated that the city may have over 100,000 hawkers. While the BMA has authorised the practice in 287 sites, the majority of activity in another 407 sites takes place illegally. Although they take up pavement space and block pedestrian traffic, many of the city's residents depend on these vendors for their meals, and the BMA's efforts to curb their numbers have largely been unsuccessful.
In 2015, however, the BMA, with support from the National Council for Peace and Order (Thailand's ruling military junta), began cracking down on street vendors in a bid to reclaim public space. Many famous market neighbourhoods were affected, including Khlong Thom, Saphan Lek, and the flower market at Pak Khlong Talat. Nearly 15,000 vendors were evicted from 39 public areas in 2016. While some applauded the efforts to focus on pedestrian rights, others have expressed concern that gentrification would lead to the loss of the city's character and adverse changes to people's way of life.
FESTIVALS AND EVENTS
The residents of Bangkok celebrate many of Thailand's annual festivals.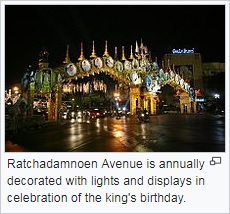 During Songkran on 13–15 April, traditional rituals as well as water fights take place throughout the city. Loi Krathong, usually in November, is accompanied by the Golden Mount Fair. New Year celebrations take place at many venues, the most prominent being the plaza in front of CentralWorld. Observances related to the royal family are held primarily in Bangkok. Wreaths are laid at King Chulalongkorn's equestrian statue in the Royal Plaza on 23 October, which is King Chulalongkorn Memorial Day. The present king's and queen's birthdays, respectively on 5 December and 12 August, are marked as Thailand's national Father's Day and national Mother's Day. These national holidays are celebrated by royal audiences on the day's eve, in which the king or queen gives a speech, and public gatherings on the day of the observance. The king's birthday is also marked by the Royal Guards' parade.
Sanam Luang is the site of the Thai Kite, Sport and Music Festival, usually held in March, and the Royal Ploughing Ceremony which takes place in May. The Red Cross Fair at the beginning of April is held at Suan Amporn and the Royal Plaza, and features numerous booths offering goods, games and exhibits. The Chinese New Year (January–February) and Vegetarian Festival (September–October) are celebrated widely by the Chinese community, especially in Yaowarat.