第三届药物发现与治疗国际会议
2011年2 月 7 -10日,迪拜 阿联酋
第三届药物发现与治疗国际会议为所有制药科学家、医生和基层医疗工作者提供了讨论和了解药物的发现和新疗法的平台,以及在这方面的重要突破发展。
这次会议由Eureka Science 组织,并得到了阿联酋Higher Colleges of Technology 的支持。会议议题包括药物的发现、药物治疗和临床应用等医学学科领域。迪拜在2008 年 和2010年2 月成功地举行了两次会议,当时有好多名诺贝尔奖得主出席。我们保证这次第三届会议将会有更大的规模,包括500多个会谈和海报介绍与35个专题会议和相关的商业展览。
Languages:








"The 3rd International Conference on Drug Discovery and Therapy should provide eminent scientists the opportunity to present their cutting edge researches in the field of drug development/therapy and applications in medicine. It should once again be able to attract a number of Nobel Laureates and leading researchers to Dubai. The previous conference held in February 2010 in Dubai was an outstanding success and I am greatly looking forward to once again participating in this exciting scientific annual event in February 2011. I expect that it will come to be regarded as the top conference in the Middle East in its field."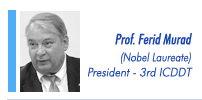 "The 3rd International Conference on Drug Discovery & Therapy", scheduled to be held from 7th - 10th February, 2011 will bring together the world's leading scientists in the field of drug discovery and therapy to discuss their latest researches in the exciting setting of sunny Dubai. The conference should provide an occasion to the participanting scientists not only to present their researches and interact with eminent colleagues but also to enjoy the magical environment of the rich Eastern traditions and culinary delights of Dubai.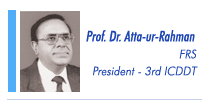 在整个四天的会议进程中,你将有机会倾听来自于国际制药、学术和临床领域的领导人的报告,并与他们交流。
这次会议将会有六个诺贝尔奖获得者作大会报告,他们是:
(美国) ·费里德 · 穆拉德博士
(美国) 迈克尔 · 布朗博士
(德国) 罗伯特 · 贝尔博士
(德国) 埃 Neher 博士
(德国)米歇尔 · 哈特穆特博士
(法国)让马里 Lehn 博士

Exchange ideas and network with leading pharmaceutical scientists, clinicians and internists.
Brings together top international scientists and clinicians presenting the cutting-edge discoveries, research and new therapeutic drugs.
First ever international conference to span the interdisciplinary fields of pre-clinical and clinical drug discovery and drug therapy.
First ever international conference to highlight the burgeoning field of Translational Medicine - and the major advances from "bench to bedside" research and practice.
Exhibitors can gain direct access to a core audience of professionals and decision makers and have increased visibility through branding and networking at the conference.
Obtain a global roundup of Pharmaceutical research capabilities and opportunities.
The conference will feature a commercial exhibition and poster sessions.
Obtain CME accreditation for select attended clinical lectures.

The conference will attract a targeted group of senior international decision makers. Delegates and exhibitors will have a valuable, informative and positive experience.
CEOs, CROs, senior directors and research associates from the pharmaceutical industry
Pharmaceutical scientists
Clinicians
Internists
Medical students (Delegate / Poster Presenter