제3차 약물 발견 및 치료에 관한 국제 컨퍼런스
이번 국제 컨퍼런스는 제약학자, 내과전문의, 1차 의료 전문의 등이 약물 발견과 새로운 치료법에 관한 돌파구가 될 만한 중요한 국제적인 발전 상황에 대하여 논의하는 특별한 기회가 될 것입니다.
유레카 사이언스(Eureka Science)가 UAE의 고등기술대학(Higher Colleges of Technology)의 지원을 받아 마련한 이번 컨퍼런스는 약물 발견, 약물 치료 및 병진의학 등 학제간 분야에 초점을 둡니다.

2008년과 2010(노벨상 수상자 다수 참석)년 2월에 각각 두바이에서 개최된 바 있는 두 차례의 컨퍼런스가 성황리에 끝났으며, 이번 제3차 컨퍼런스는 그 규모가 더 커져 포스터 발표와 관련 기업 전시회 등과 더불어 35개의 주제별 세션과 500여 개의 토론이 진행되는 등 그 규모가 훨씬 커질 것으로 예상됩니다.

4일에 걸쳐 진행되는 이번 컨퍼런스는 국제 제약업계와 학계, 의료계 등과의 네트워크 구축은 물론이고 각 분야 리더들의 강연을 들을 수 있는 기회가 될 것입니다.
Languages:








"The 3rd International Conference on Drug Discovery and Therapy should provide eminent scientists the opportunity to present their cutting edge researches in the field of drug development/therapy and applications in medicine. It should once again be able to attract a number of Nobel Laureates and leading researchers to Dubai. The previous conference held in February 2010 in Dubai was an outstanding success and I am greatly looking forward to once again participating in this exciting scientific annual event in February 2011. I expect that it will come to be regarded as the top conference in the Middle East in its field."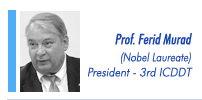 "The 3rd International Conference on Drug Discovery & Therapy", scheduled to be held from 7th - 10th February, 2011 will bring together the world's leading scientists in the field of drug discovery and therapy to discuss their latest researches in the exciting setting of sunny Dubai. The conference should provide an occasion to the participanting scientists not only to present their researches and interact with eminent colleagues but also to enjoy the magical environment of the rich Eastern traditions and culinary delights of Dubai.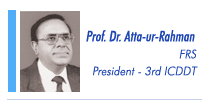 주요 제약학자, 임상전문의, 내과 전문의 등과의 의견교환 및 네트워크 구축
최첨단 발견사항, 연구 및 새로운 치료약을 소개하는 세계 최고의 석학들과 임상전문의들을 한자리에서 볼 수 있음.
임상전 및 임상약물 발견과 약물 치료 등 학제간 분야를 다루는 최초의 국제 컨퍼런스
떠오르는 병진의학과 '벤치에서 침대로' 연구 및 임상의 주요 발전상황을 집중 조명하는 최초의 국제 컨퍼런스
전시업체들은 주요 업계 전문직 종사자들과 의사결정권자들을 직접 만나 브랜딩 및 네트워킹을 통해 가시성 확대
세계 제약 연구 역량 및 기회에 대한 상황을 종합적으로 살펴볼 수 있음
본 컨퍼런스 기간 중 기업의 전시와 포스터 세션 등이 개최됨.
참석한 일부 임상 강연에 대한 CME 인증 가능

The conference will attract a targeted group of senior international decision makers. Delegates and exhibitors will have a valuable, informative and positive experience.
CEOs, CROs, senior directors and research associates from the pharmaceutical industry
Pharmaceutical scientists
Clinicians
Internists
Medical students (Delegate / Poster Presenter