Tercer Congreso Internacional sobre el descubrimiento de nuevos fármacos y su aplicación terapéutica que se desarrollará en Dubai, Emiratos Árabes Unidos desde el 7 al 10 de Febrero de 2011.
Esta Conferencia internacional, única en su campo, proporciona una plataforma para todos los científicos (ya sean médicos clínicos -especialistas y médicos de asistencia primaria- o investigadores, farmacéuticos, bioquímicos o biólogos) permite discutir y aprender sobre todos los acontecimientos de avance internacional importante sobre el descubrimiento de nuevos fármacos y su implementación en la práctica clínica.
Este congreso está organizado por la ciencia Eureka con el apoyo del colegio superior de tecnología de Dubai (Emiratos Árabes Unidos), tiene un carácter interdisciplinar aunando la investigación básica con la clínica y la medicina translacional.

Después del éxito abrumador de las conferencias anteriores celebradas también en Dubai en febrero de 2008 y 2010 que contaron con la asistencia y participación de numerosos premios Nobel, este tercer Congreso promete ser un acontecimiento todavía más importante. Incluirá más de 500 conferencias distribuidas en 35 sesiones temáticas, sesiones de pósters y dispondrá también de un área para exposición comercial.

Durante el transcurso de la Conferencia de cuatro días, los asistentes tendrán la oportunidad escuchar en directo o via internet, a los líderes en investigación de las universidades más prestigiosas, investigadores clínicos y de industria farmacéutica.
Languages:








"The 3rd International Conference on Drug Discovery and Therapy should provide eminent scientists the opportunity to present their cutting edge researches in the field of drug development/therapy and applications in medicine. It should once again be able to attract a number of Nobel Laureates and leading researchers to Dubai. The previous conference held in February 2010 in Dubai was an outstanding success and I am greatly looking forward to once again participating in this exciting scientific annual event in February 2011. I expect that it will come to be regarded as the top conference in the Middle East in its field."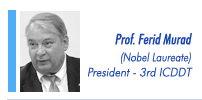 "The 3rd International Conference on Drug Discovery & Therapy", scheduled to be held from 7th - 10th February, 2011 will bring together the world's leading scientists in the field of drug discovery and therapy to discuss their latest researches in the exciting setting of sunny Dubai. The conference should provide an occasion to the participanting scientists not only to present their researches and interact with eminent colleagues but also to enjoy the magical environment of the rich Eastern traditions and culinary delights of Dubai.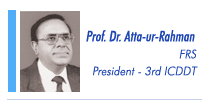 La participación de seis premios Nobel, refleja e ilustra la relevancia científica y la repercusión internacional del congreso. Además un elevado número de expertos de reconocido prestigio internacional han confirmado ya su asistencia al congreso.
Los científicos galardonados con el premio Nobel que han aceptado presentar conferencias plenarias en el Congreso son los siguientes:
Prof. Dr. Ferid Murad, (Estados Unidos)
Prof. Dr. Robert Huber, (Alemania)
Prof. Dr. Erwin Neher, (Alemania)
Prof. Dr. Werner Arber, (Estados Unidos)
Prof. Dr. Jean-Marie Lehn (Francia)
El congreso ofrecerá la oportunidad de :
Contactar con destacados científicos procedentes del campo de la medicina, farmacología, biología, bioquímica, investigadores de universidades, y de la i Austria farmacéutica.
Asisitir a sesiones compartidas por los principales científicos internacionales
Disponer de información sobre descubrimientos de vanguardistas sobre nuevos fármacos
Es el primer congreso de carácter interdisciplinar incluyendo investigación básica de nuevos fármacos y su implementación en la práctica clínica.
primer congreso internacional que incluye y resalta la importancia de la medicina Transnacional
La industria farmacéutica tendrá acceso directo a la información de científicos procedentes de otros ámbitos. Podr´n además establecer contacto con representantes de losórganos de decisión y aumentar su visibilidad científica.
La Conferencia he contará con sesiones de póster, acreditación de CME para conferencias seleccionadas y de exposición comercial.

The conference will attract a targeted group of senior international decision makers. Delegates and exhibitors will have a valuable, informative and positive experience.
CEOs, CROs, senior directors and research associates from the pharmaceutical industry
Pharmaceutical scientists
Clinicians
Internists
Medical students (Delegate / Poster Presenter)