3rd International Conference on Drug Discovery and Therapy
February 7th - 10th, 2011, Dubai, UAE
This unique international conference provides a platform for all pharmaceutical scientists, internists and primary care physicians to discuss and learn about all the important international breakthrough developments on drug discovery and on new therapeutics.
A conference organized by Eureka Science with support of the Higher Colleges of Technology, UAE, it focuses on the interdisciplinary fields of drug discovery, drug therapy and translational medicine.
After the overwhelming success of the previous conferences held in Dubai in February 2008 and 2010 (where many Nobel laureates attended), the third conference will promise to be a much larger event with over 500 talks delivered and 33 thematic sessions with poster presentations and an associated commercial exhibition.
Throughout the course of the four day conference, you will have the opportunity to both network and hear leaders from the international pharmaceutical, academic and clinical communities.
Languages:










"The 3rd International Conference on Drug Discovery and Therapy should provide eminent scientists the opportunity to present their cutting edge researches in the field of drug development/therapy and applications in medicine. It should once again be able to attract a number of Nobel Laureates and leading researchers to Dubai. The previous conference held in February 2010 in Dubai was an outstanding success and I am greatly looking forward to once again participating in this exciting scientific annual event in February 2011. I expect that it will come to be regarded as the top conference in the Middle East in its field."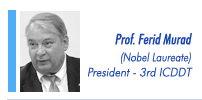 "The 3rd International Conference on Drug Discovery & Therapy", scheduled to be held from 7th - 10th February, 2011 will bring together the world's leading scientists in the field of drug discovery and therapy to discuss their latest researches in the exciting setting of sunny Dubai. The conference should provide an occasion to the participanting scientists not only to present their researches and interact with eminent colleagues but also to enjoy the magical environment of the rich Eastern traditions and culinary delights of Dubai.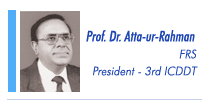 The high international stature of this conference is reflected from the fact that five Nobel Laureates, besides a galaxy of world renowned experts, have already accepted to participate in the conference.

The Nobel Laureates who have accepted to present Plenary Lectures at the conference are:
Prof. Dr. Ferid Murad, (USA)
Prof. Dr. Robert Huber, (Germany)
Prof. Dr. Erwin Neher, (Germany)
Prof. Dr. Werner Arber, (USA)
Prof. Dr. Jean-Marie Lehn, (France)

Exchange ideas and network with leading pharmaceutical scientists, clinicians and internists.
Brings together top international scientists and clinicians presenting the cutting-edge discoveries, research and new therapeutic drugs.
First ever international conference to span the interdisciplinary fields of pre-clinical and clinical drug discovery and drug therapy.
First ever international conference to highlight the burgeoning field of Translational Medicine - and the major advances from "bench to bedside" research and practice.
Exhibitors can gain direct access to a core audience of professionals and decision makers and have increased visibility through branding and networking at the conference.
Obtain a global roundup of Pharmaceutical research capabilities and opportunities.
The conference will feature a commercial exhibition and poster sessions.
Obtain CME accreditation for select attended clinical lectures.

The conference will attract a targeted group of senior international decision makers. Delegates and exhibitors will have a valuable, informative and positive experience.
CEOs, CROs, senior directors and research associates from the pharmaceutical industry
Pharmaceutical scientists
Clinicians
Internists
Medical students (Delegate / Poster Presenter